~ High Shoals Falls, Paulding Co. ~
Used as a baptizing hole by the early High Shoals Baptist Church, est. 1841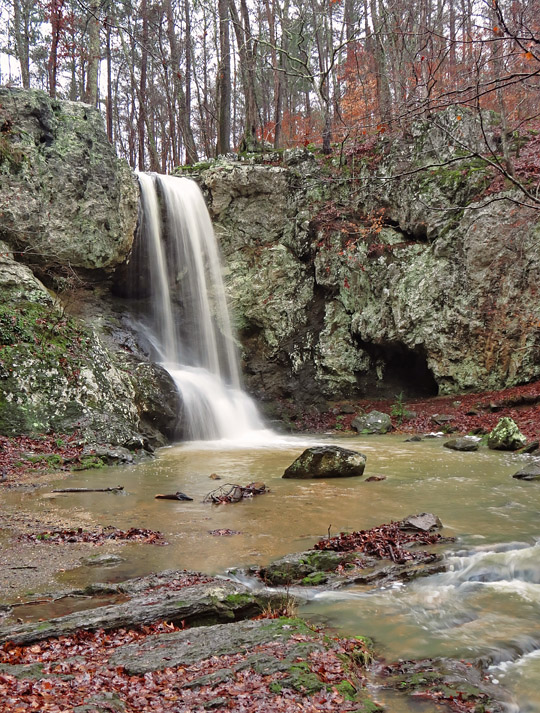 ---
~ Uncompleted Railroad ~

The map below (ref: Official Civil War Atlas, Pl. 59) shows a "R.R. Partly Graded" in West Cobb,
crossing Old Sandtown Rd. just south of the old Darby house. This was probably an early stage
of the Polk Slate Quarry RR, which was to run from Marietta through Cobb, Paulding and Polk
Counties to the Alabama line. The Civil War ended all future plans for that venture.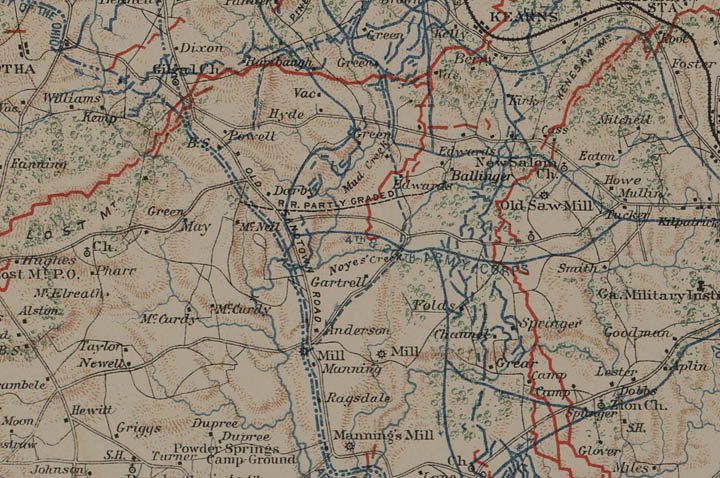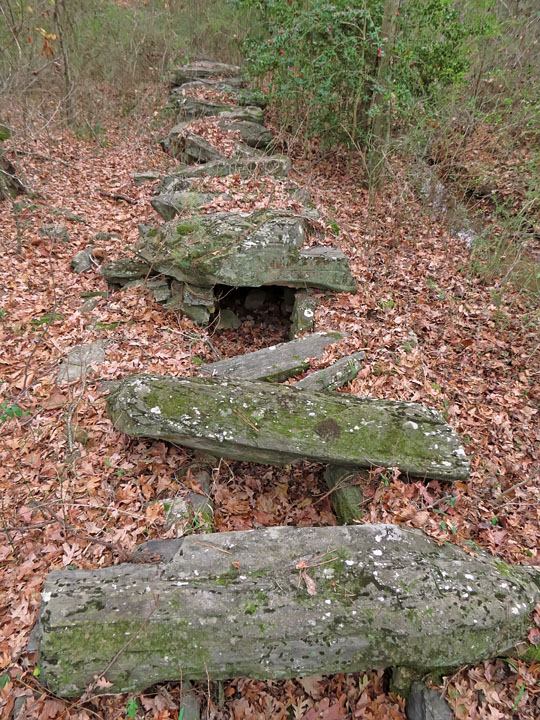 Little evidence remains today of this unfinished railroad. As recently as the 1990s, large
earthen abutments for a never-built bridge stood forgotten in the woods adjacent to this
impressive large stone culvert. Development has taken a heavy toll on the remains of
this now forgotten RR venture. While the stone culvert remains, the more remarkable of
the earthen structures were destroyed when The Avenue West Cobb site was graded.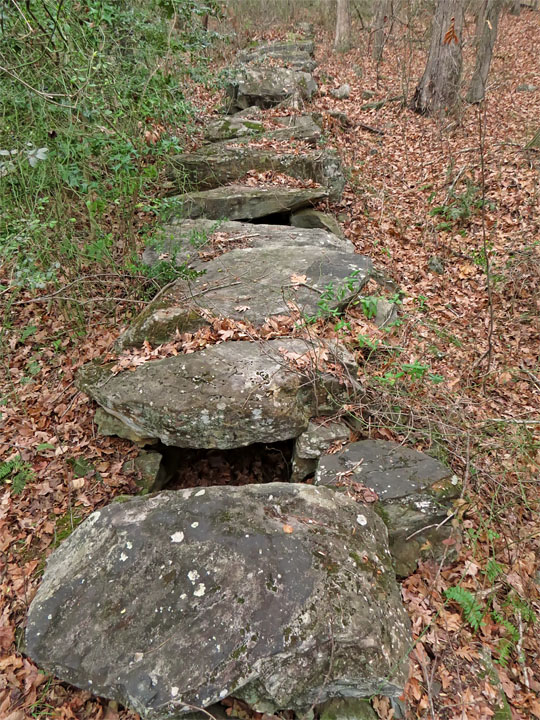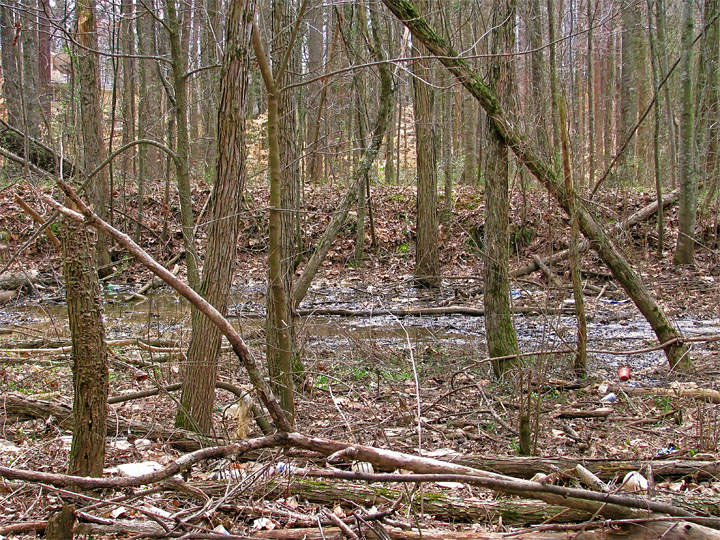 ---
~ Funk Heritage Center, Waleska ~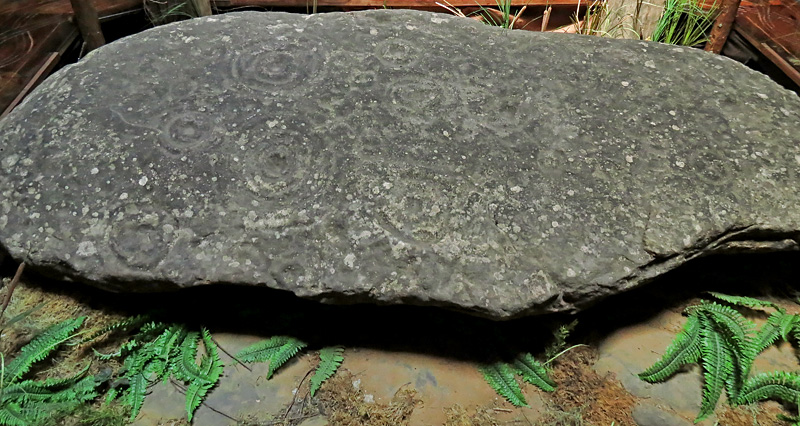 Petroglyph rock from old Cline farm in Cherokee County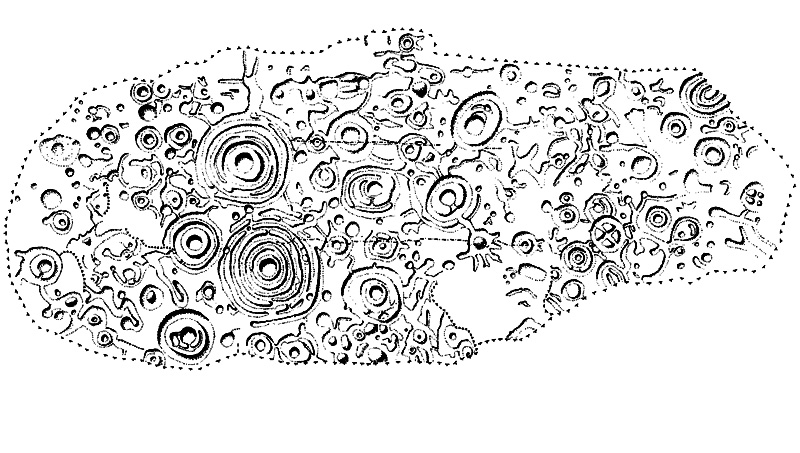 Sketch of petroglyphs on Cline rock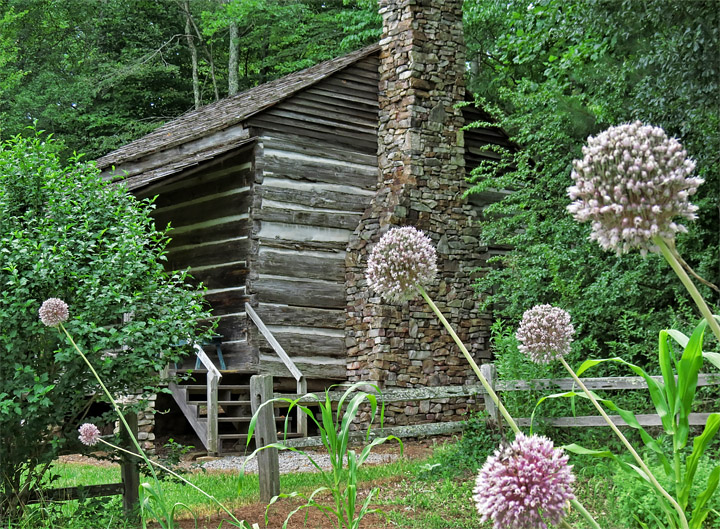 Beavers' log cabin from 1840s
---
~ Stamp Creek Community School ~

Francis Houser Boston and W.C. Brooke built a neighborhood school about 1848, with Brooke serving
as its first teacher. The school served as a community center for Stamp Creek, as a meeting house, and
a polling booth for local elections. During the Civil War, the school held captured Union soldiers. A post
office existed between 1878 and 1907. Today, all that remains of the old log school is the chimney.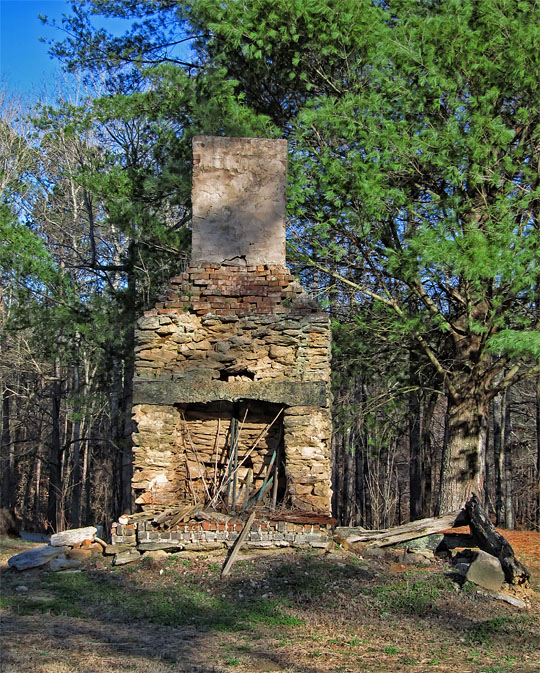 Stamp Creek Community Schoolhouse - chimney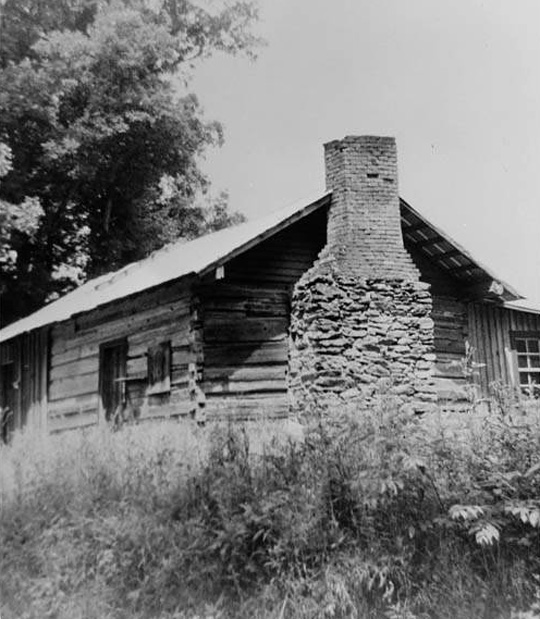 Stamp Creek Community School - still standing in 1957
Vanishing Georgia, Georgia Archives, Office of Secretary of State
---
~ Allatoona Pass ~

Site of Civil War battle fought October 5, 1864. Forces Engaged: US - 1,944 men;
CS - approx. 2,000 men. Estimated casualties: 1,505 (US - 706, Confederate - 799);
Principal Commanders: Maj. Gen. Samuel French (CS); Brig. Gen. John Corse (US).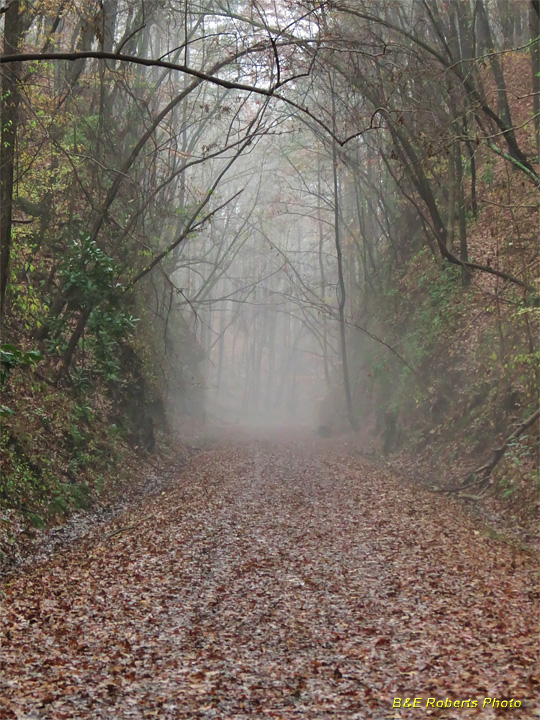 Fog creeps in at Allatoona Pass.
---
~ W&A Railroad Bridge over the Etowah River ~

The Western & Atlantic Railroad bridge crossing was destroyed and rebuilt several times during
the course of the Civil War. The railroad was later re-routed several hundred yards downstream.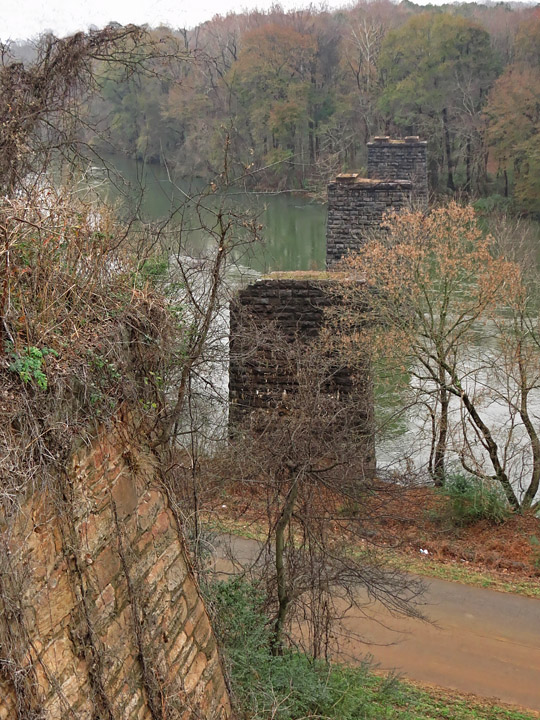 Bridge piers on Etowah River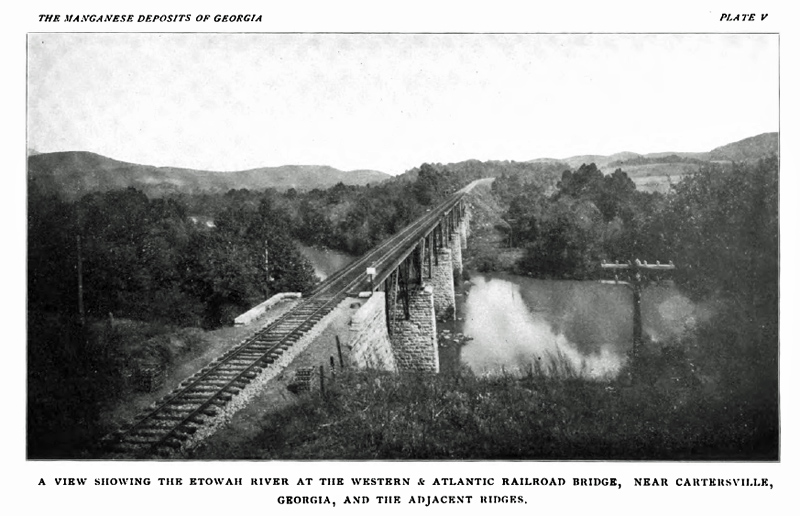 Similar view, from a 1908 Georgia geology publication.
---
~ Poinsett Bridge ~

Coming upon Poinsett Bridge, deep in the middle of nowhere, one would be hard pressed to guess that
this span once served as a link in the old State Road, which connected Charleston, SC with the mountain
communities of NC. The bridge was named for Joel Roberts Poinsett, director of SC's Public Works, who
designed the road in 1817-19. Built in 1820, the Gothic arch is believed to be the oldest intact bridge in SC.
Poinsett later gained greater fame for introducing the poinsettia to the United States.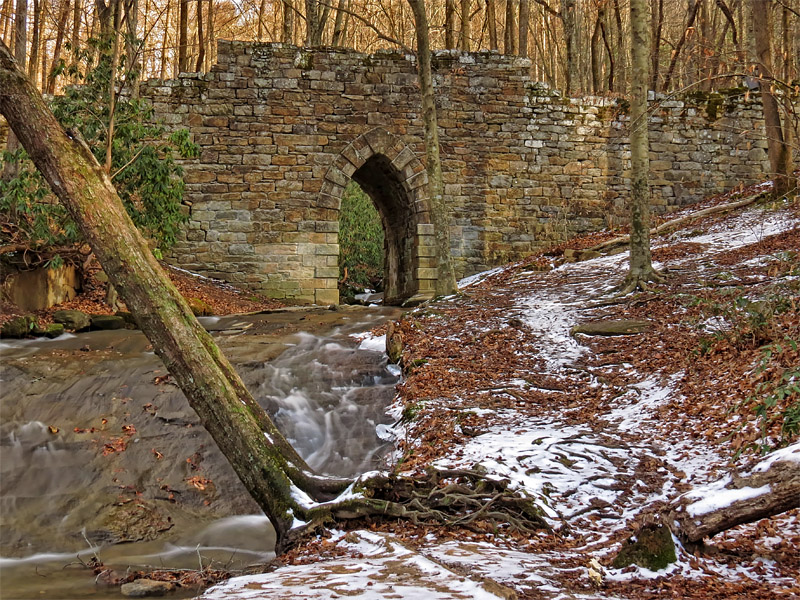 Bridge amidst remains of a January snow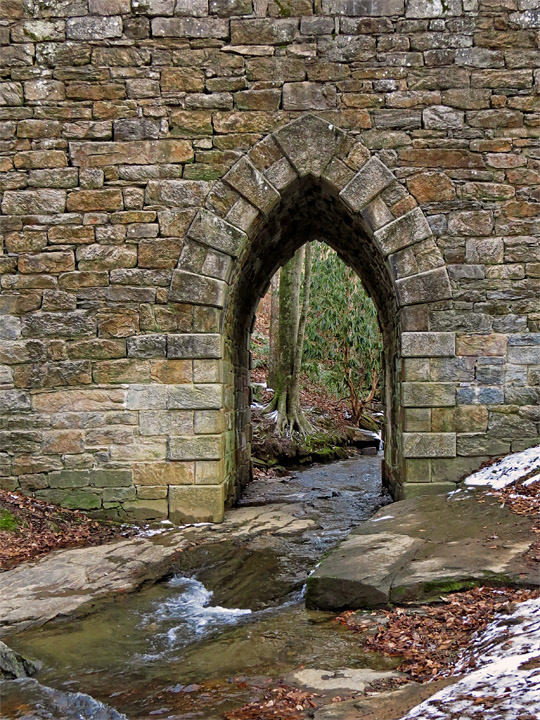 Detail of the Gothic arch spanning Little Gap Creek
---