I've been walking & GPS track-recording some of the old logging roads in our end of the Wilderness Area. I started
this project a year ago, for personal use while exploring the area. I'll probably never finish because there is a virtual
maze of these trails, covering over 1500 ft of elevation, and several thousand acres area in this small section alone.

November 11, 2017 - North side of Eagle Mtn
Images that caught my eye as I roamed upward toward the high elevation cliffs and boulder-fields...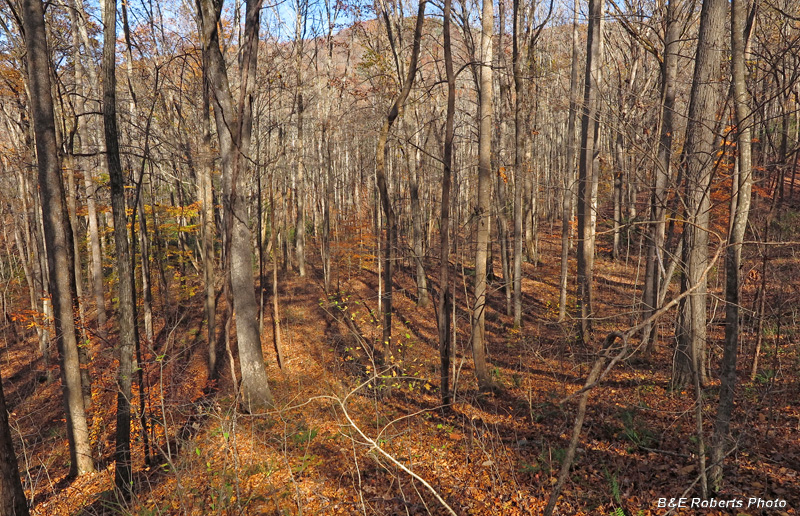 Peak foliage was just a week ago, but already most of the leaves have fallen...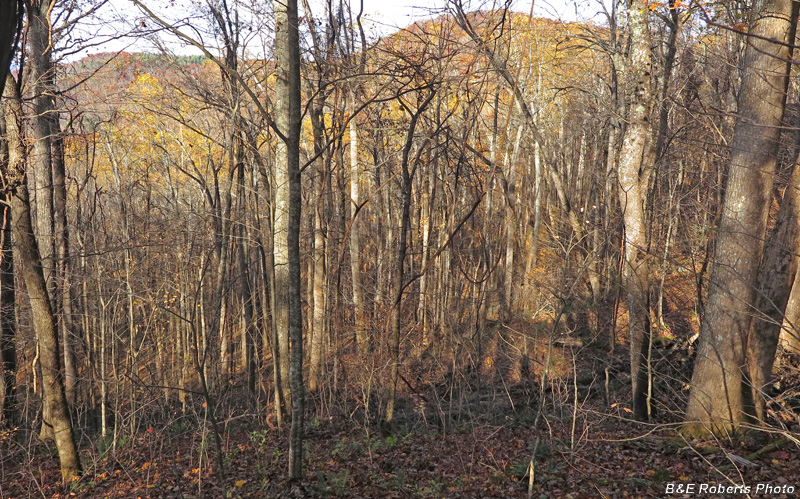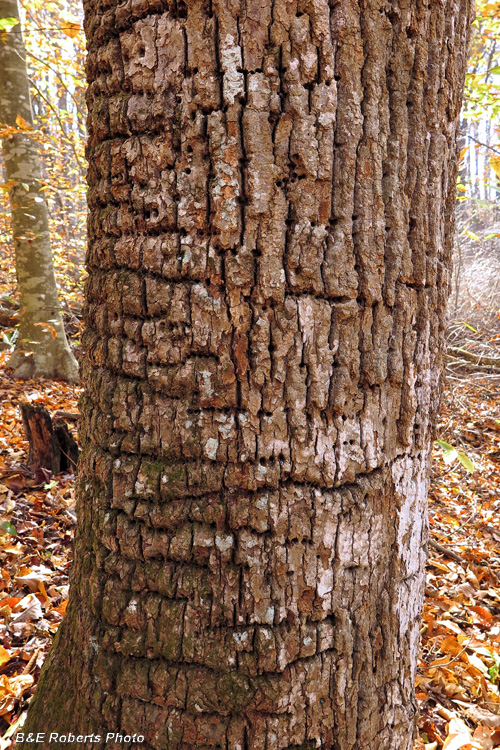 I like the variety of barks on the large trees.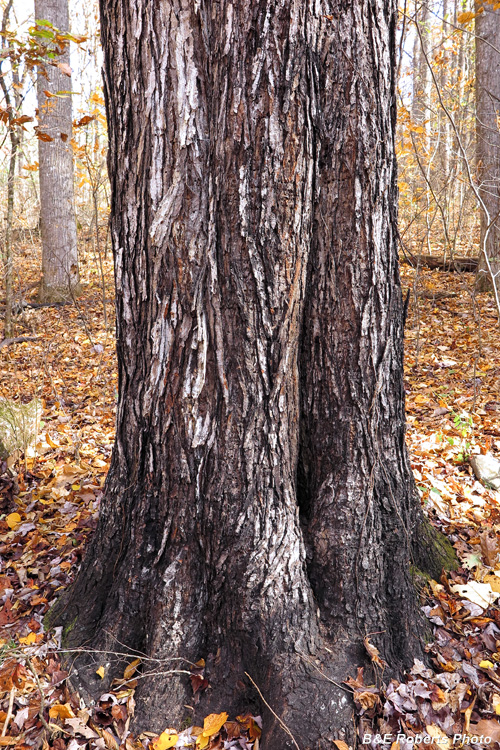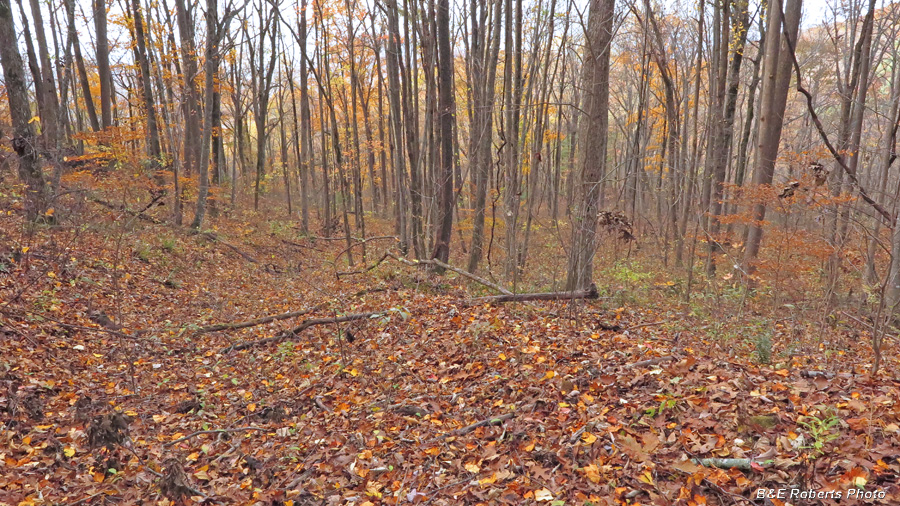 Still a little color at this lower elevation area.
One of the old logging roads is visible on the left.
A variety of lichens on a huge boulder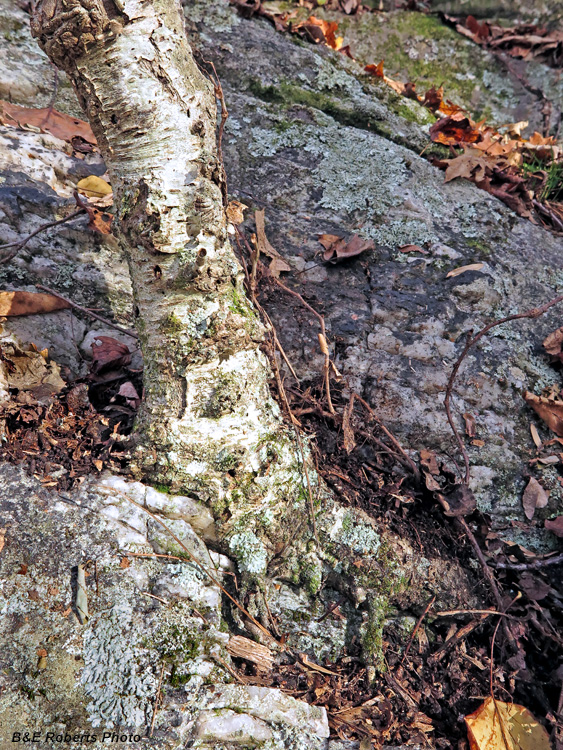 Birches will take root and grow in the tiniest of cracks in a rock.
That and their capacity to germinate in moss mats make them common in high elevation boulder fields.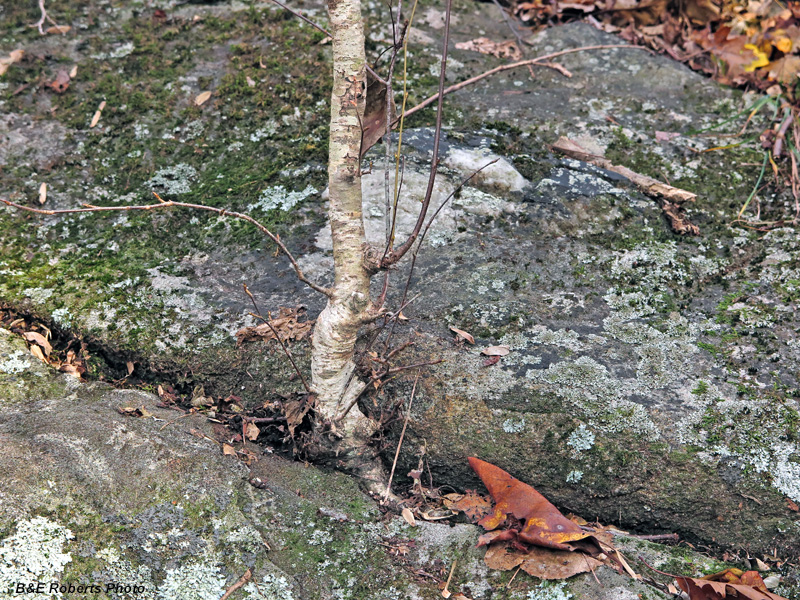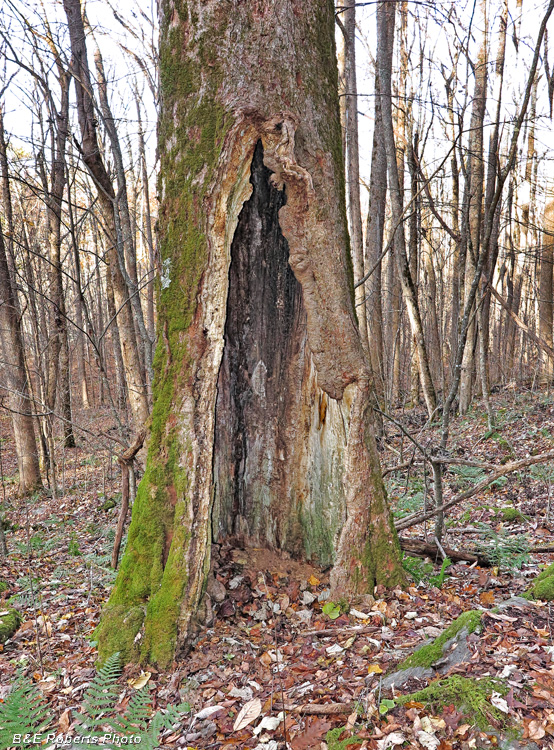 A huge hollowed-out tree, almost 4 ft diameter at the base.
I didn't look to see if there was a bear up there...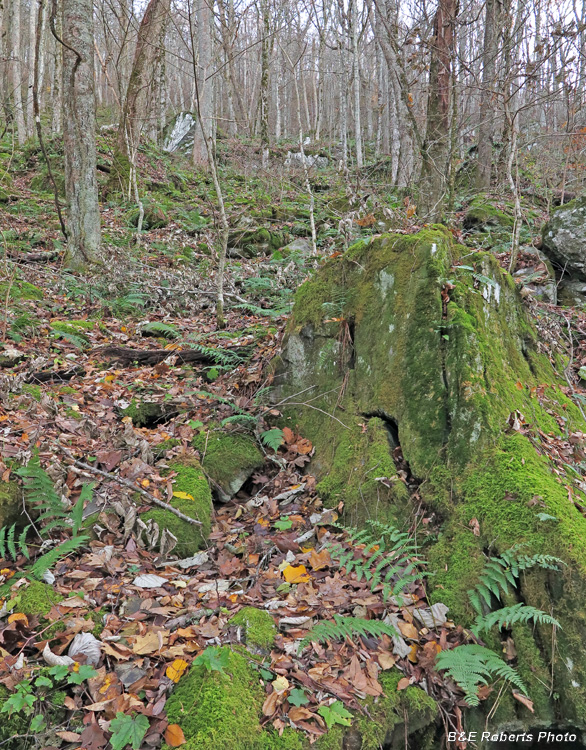 Approaching the boulder fields...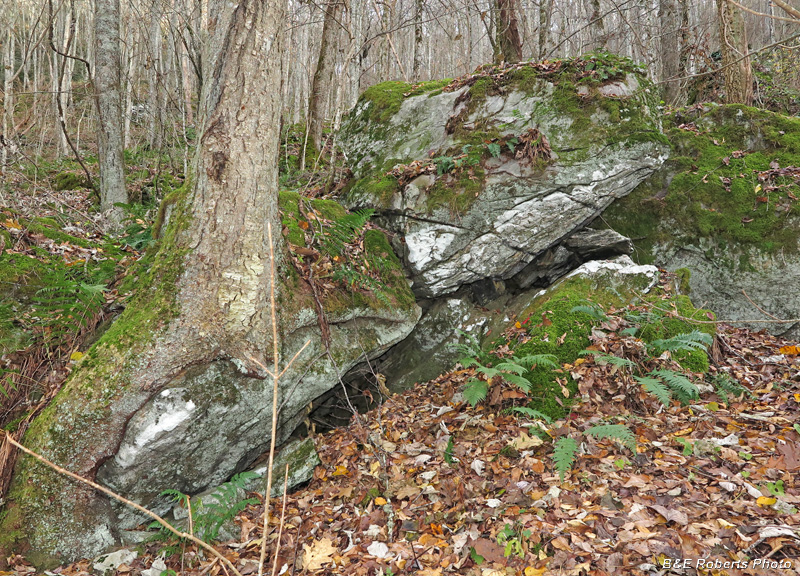 More mossy boulders, as I gain elevation.
The center one looks like a whale to me...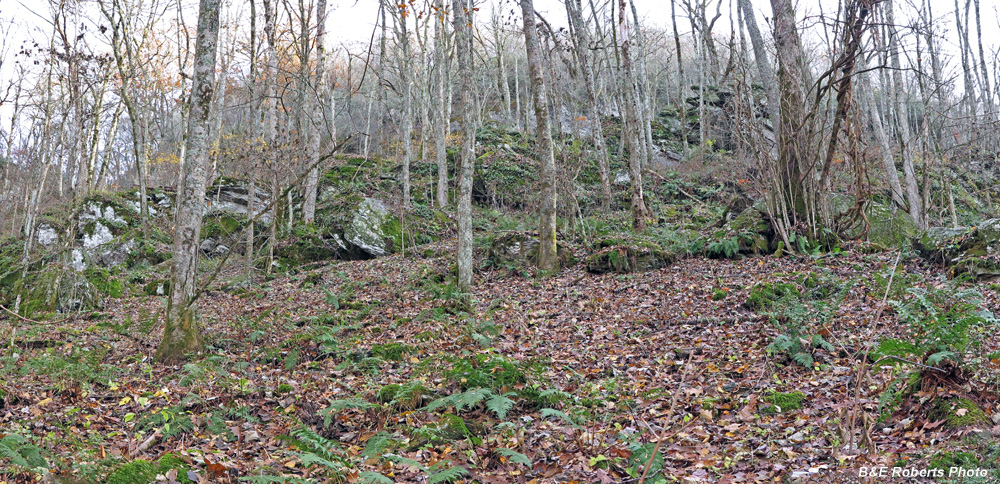 A series of boulder fields and cliffs stretch along the upper elevations of the north slope of Eagle Mtn.
Unfortunately this image doesn't reflect the steepness or vastness of this area.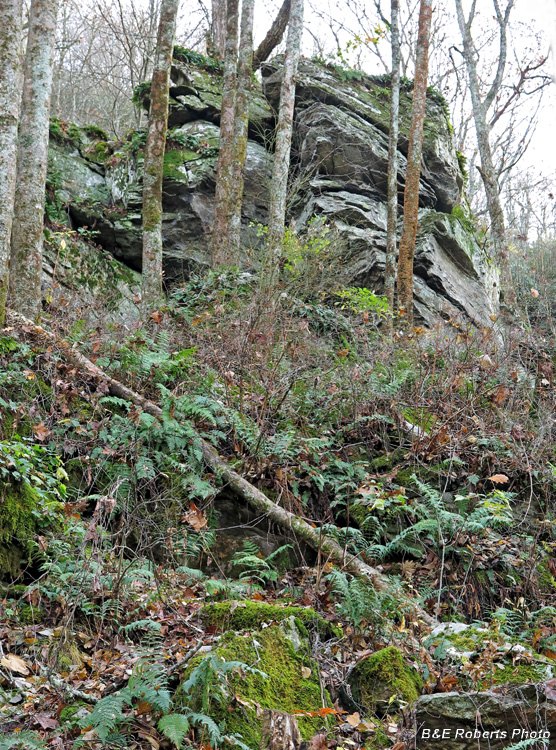 Huge rock formation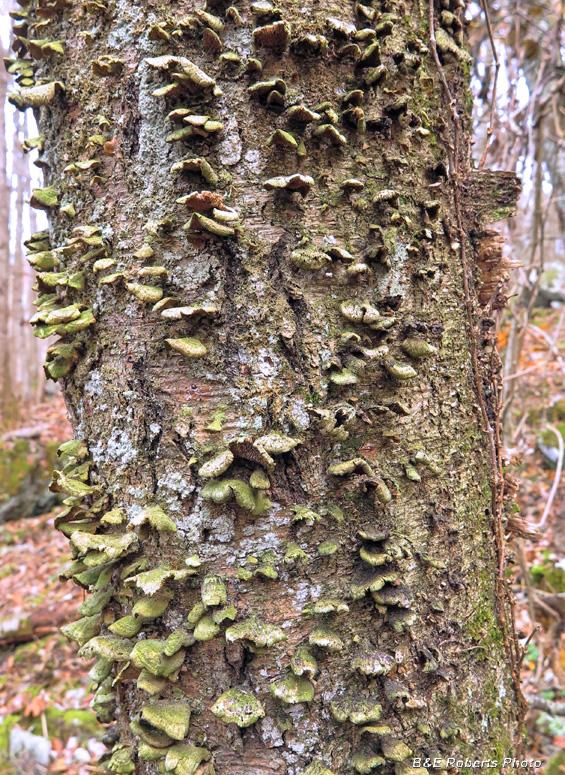 Tree fungi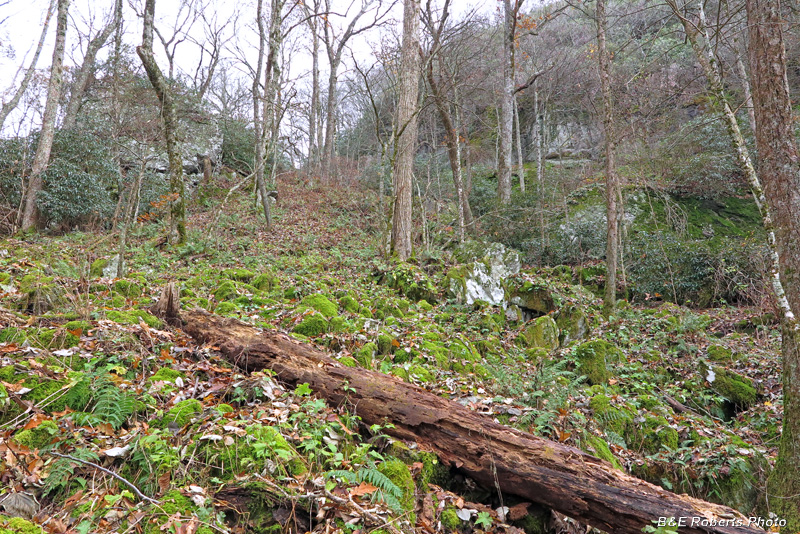 Another example of cliff and boulder field zones.
Rhododendron and Mountain Laurel are found in this area.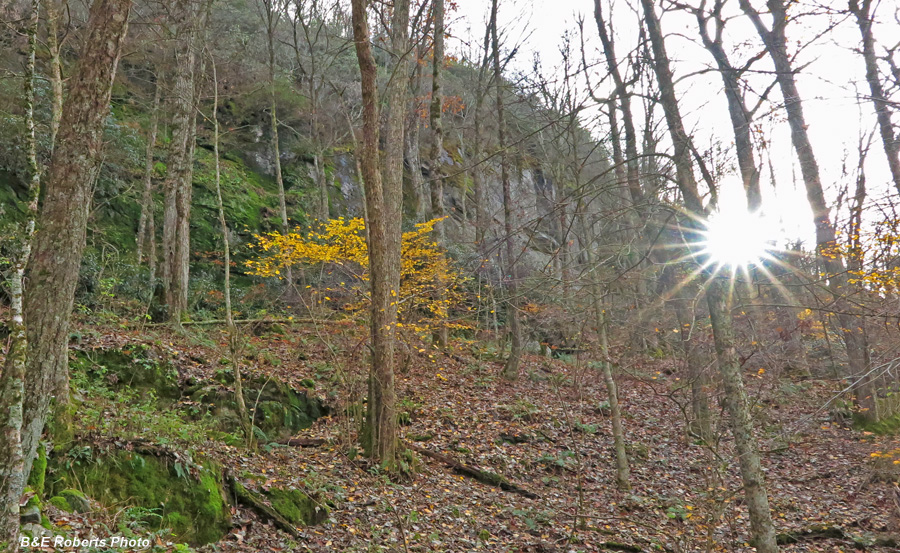 Sun sinking below the cliffs in late afternoon.
---
November 20, 2017 - North side of Eagle Mtn
On this afternoon, I worked my way up to the boulder-fields below Egypt Gap.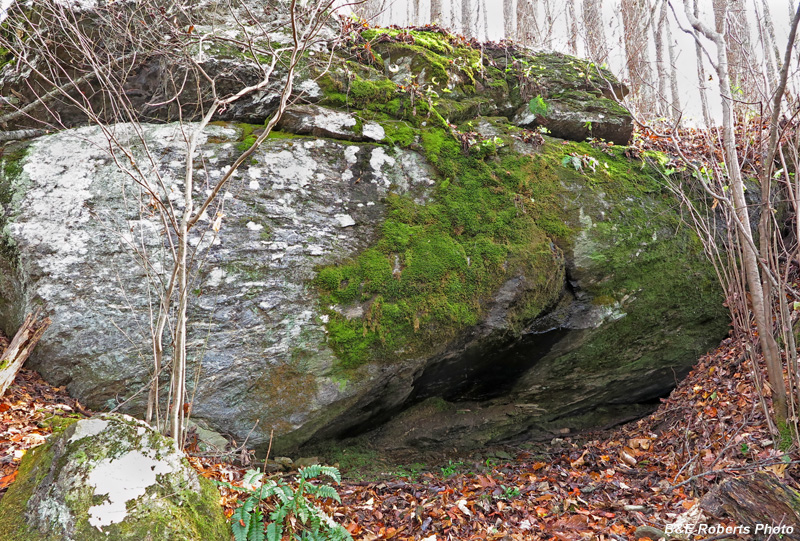 A wet seep emerged from the base of this boulder.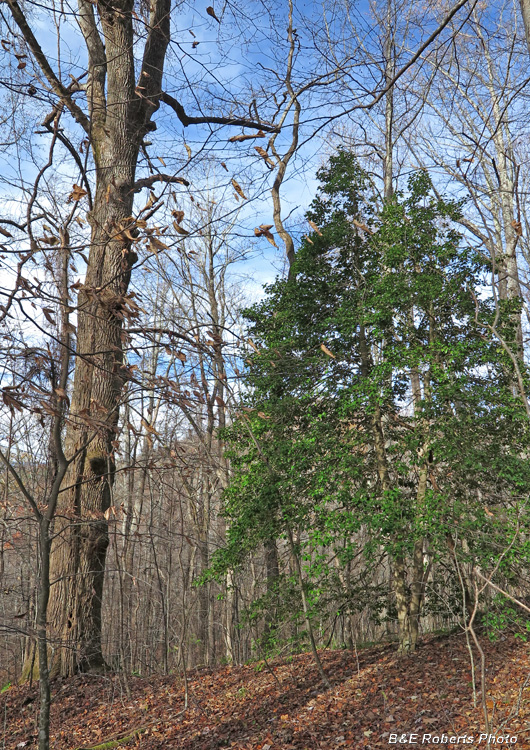 A nice American Holly (~25 ft tall) next to a huge Tulip Poplar.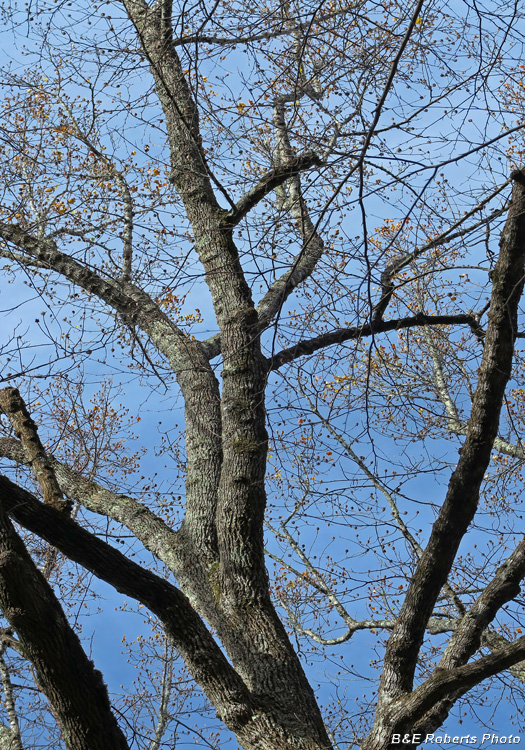 View toward the crown of the Tulip Poplar (Liriodendron tulipifera)
It had a circumference at chest height of 14 ft, about 4.5 ft diameter.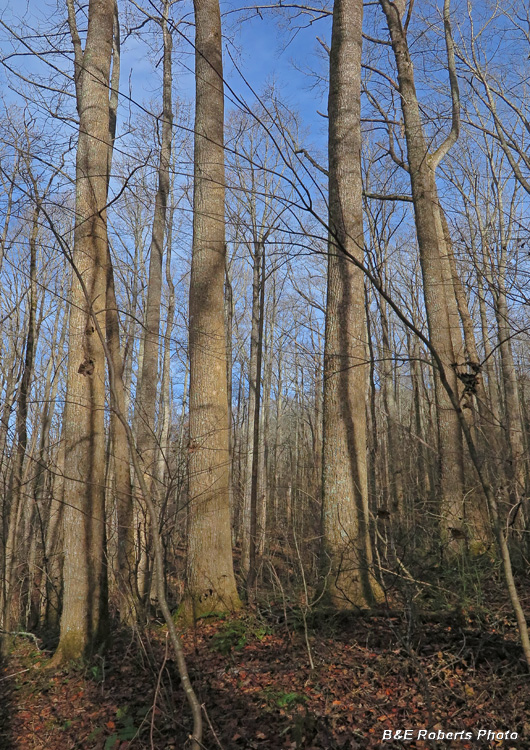 This image doesn't really illustrate the size, but there are many huge trees at the upper elevations.
The old logging roads peter out below here; not sure how extensive logging was on these steep slopes. Few old stumps are seen.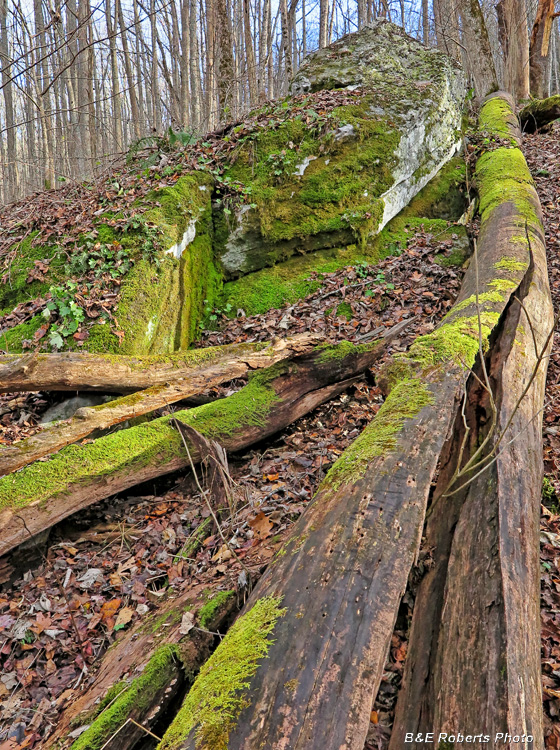 Mossy boulders and fallen tree trunks...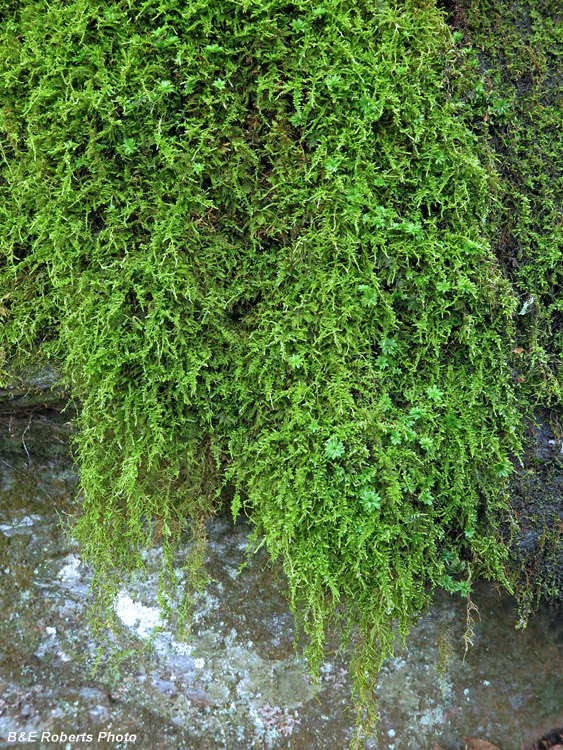 Lush moss hanging from a boulder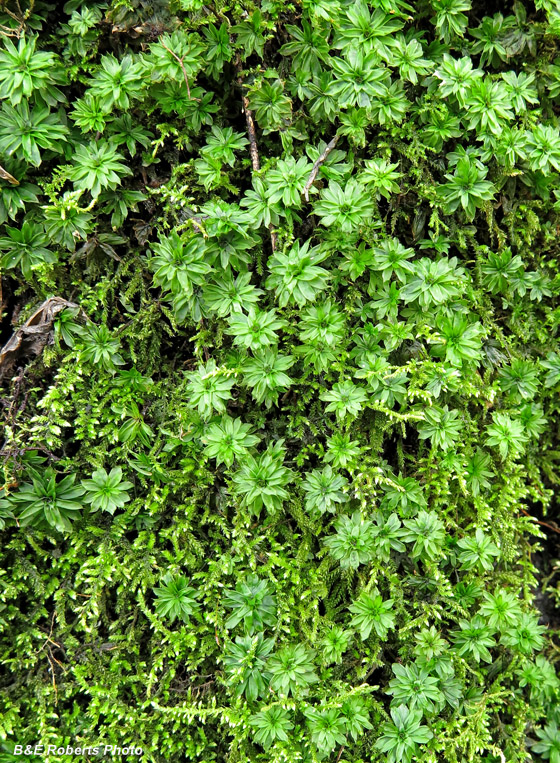 I believe this is Candle Snuffer Moss (Encalypta procera)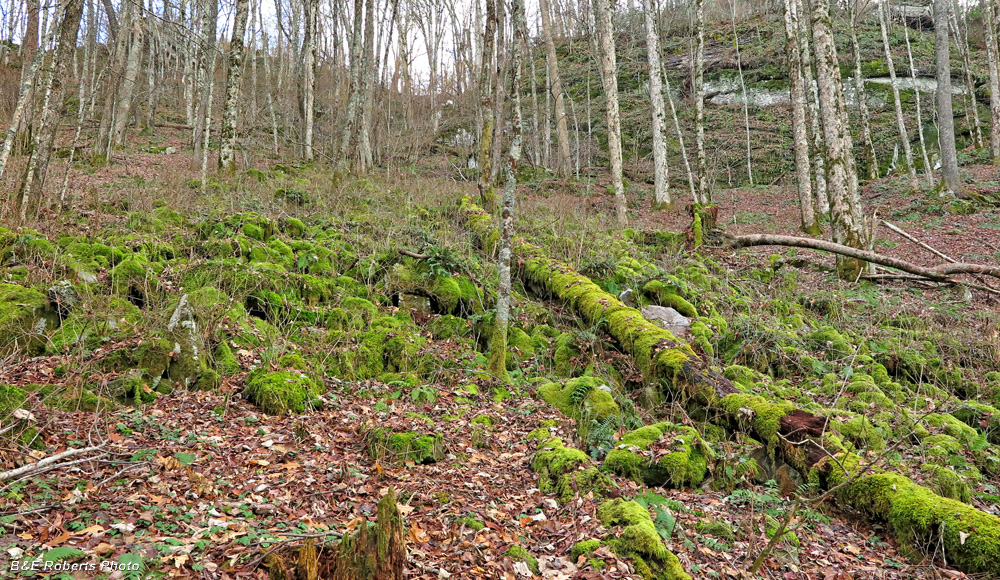 This boulder field below Egypt Gap is one of my favorite spots.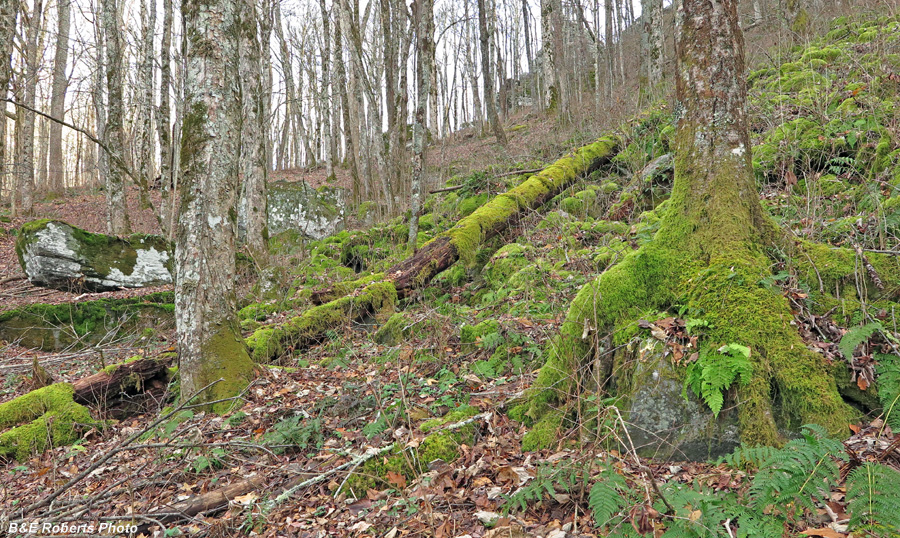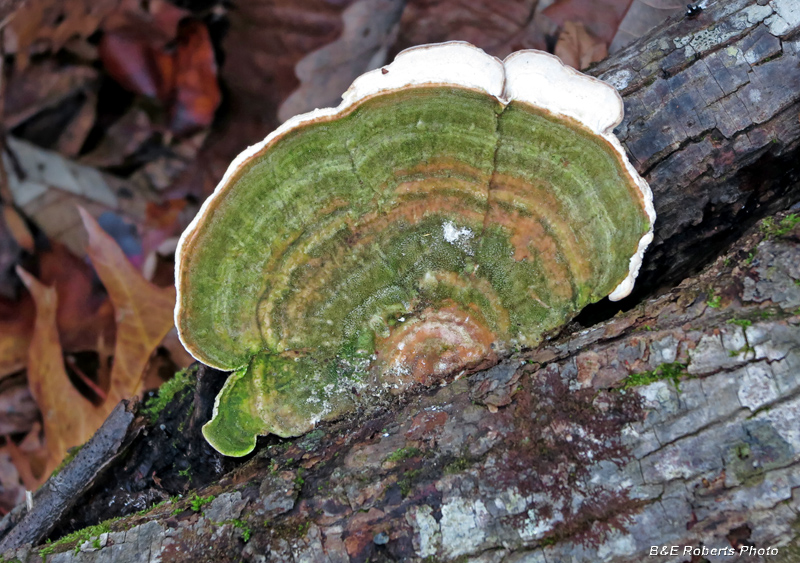 One of the bracket fungi...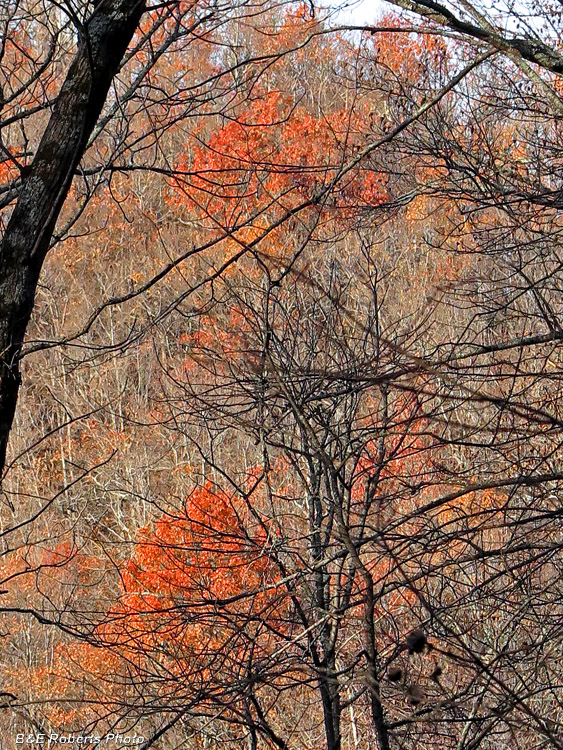 Leaves still remained on a few trees.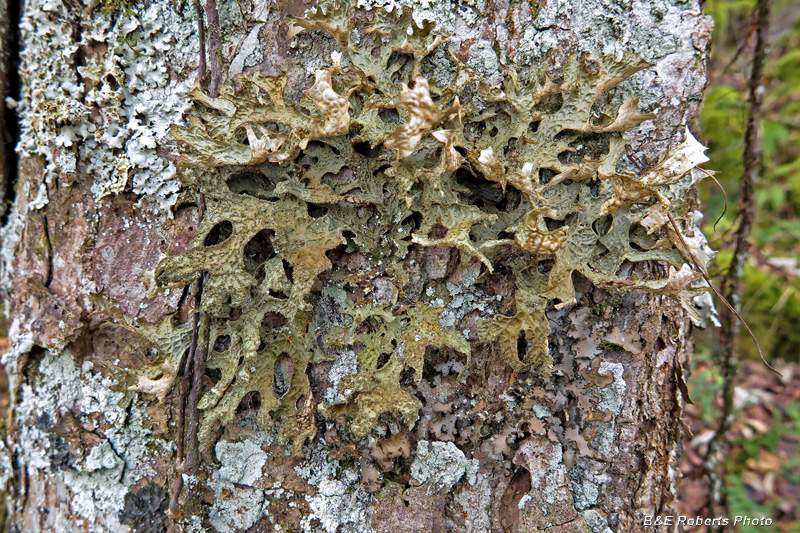 Lungwort (Lobaria pulmonaria)
One of my goals for the afternoon was to search this location for old-growth lichens, and I was fairly successful.

[ Go to the Old-Growth Lichens on Eagle Mountain album for additional images of the lichens I found.]
---