In February 2017, while perusing GE, I noticed waterfalls on two unnamed branches of the upper Coleman River in the Southern Nantahala Wilderness. I visited the more accessible branch in early March, but with other destinations planned for that day, didn't have time for the more distant one. Besides, it looked like reaching it would involve a serious bushwhack through a maze of rhododendron and who knows what else... New 2017 GE imaging from April, however, showed the woods relatively clear, due to the Rock Mtn Fire burning through the area in the fall of 2016. And examination of the fire incident reports revealed that the old grown-over logging road had been prepped for a fire break, making for an easier approach.

~ Waterfall on the first unnamed tributary, which originates on Steeltrap Knob ~

For descriptive purposes, I'm referring to this creek as Steeltrap Branch.
An old-timer told me that this drop was called "The Washer Hole". Apparently someone tossed an old-style
wringer washing machine off the brink of the falls many years ago and it's down at the bottom somewhere...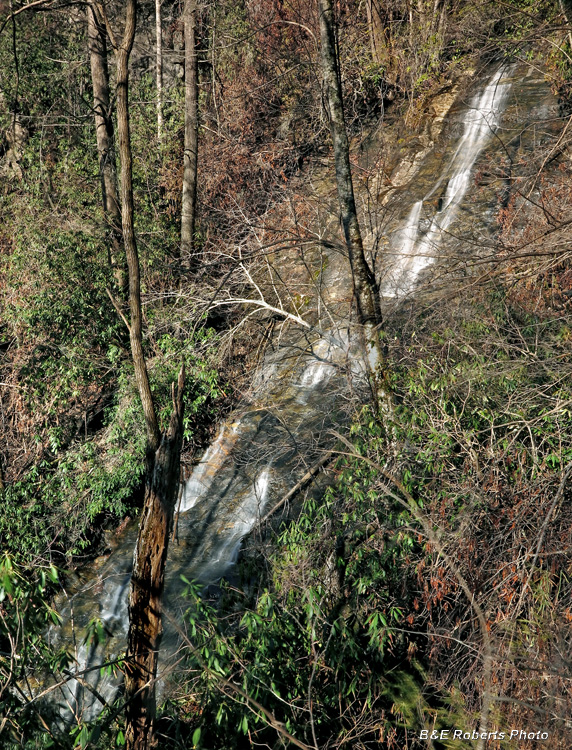 A high, steep slide waterfall, with a total drop of almost 100 ft. (Elev: 3000')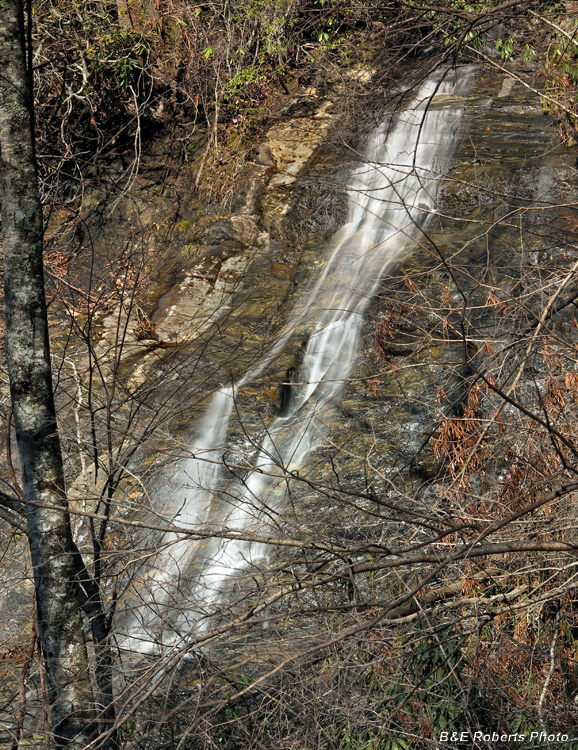 Upper section of the same falls.
The base of the waterfall was choked with deadwood and rhododendron; these views were the only photos I took.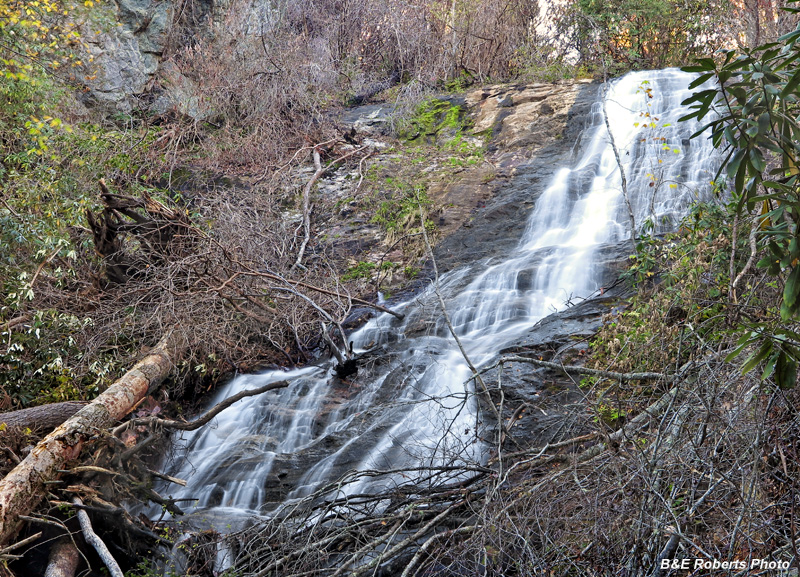 Update: A return visit on Halloween Day 2017...
I cleared out enough tangled dead wood near the base to get a better view of the waterfall.
---
~ The second tributary originates at Bear Gap and contains a series of waterfalls. ~
For descriptive purposes, I'm referring to it as Bear Gap Branch.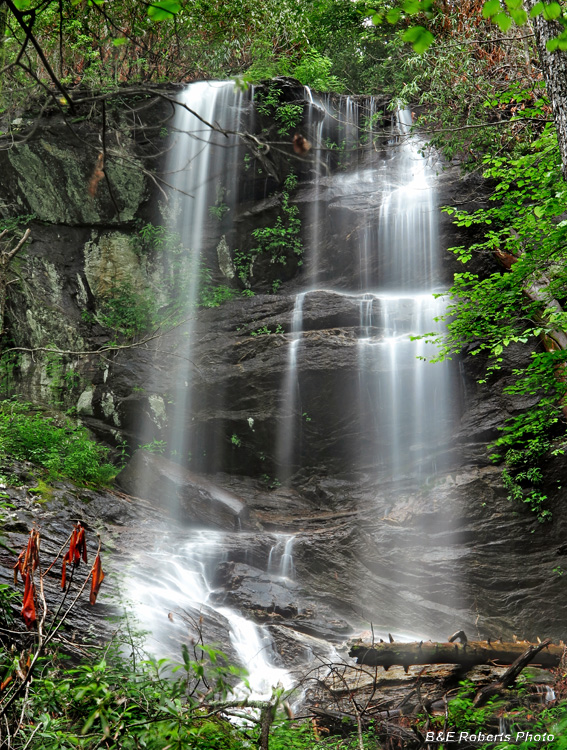 1st (Lower) Falls on Bear Gap Branch. (Elev: 3275')
It's hard to tell from the photo, but it's about 45 ft high.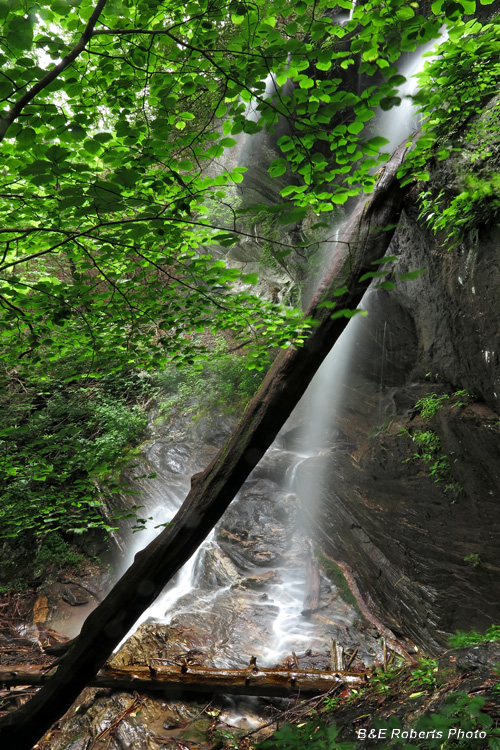 Lower Falls - profile view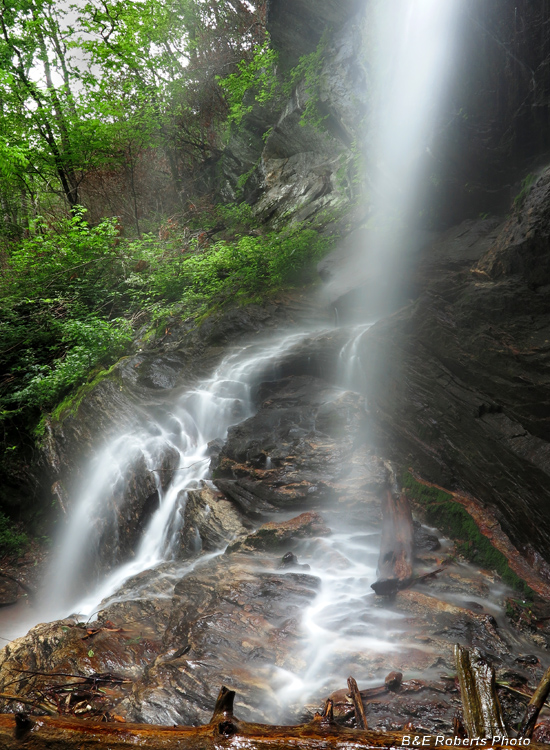 Profile of bottom part of Lower Falls.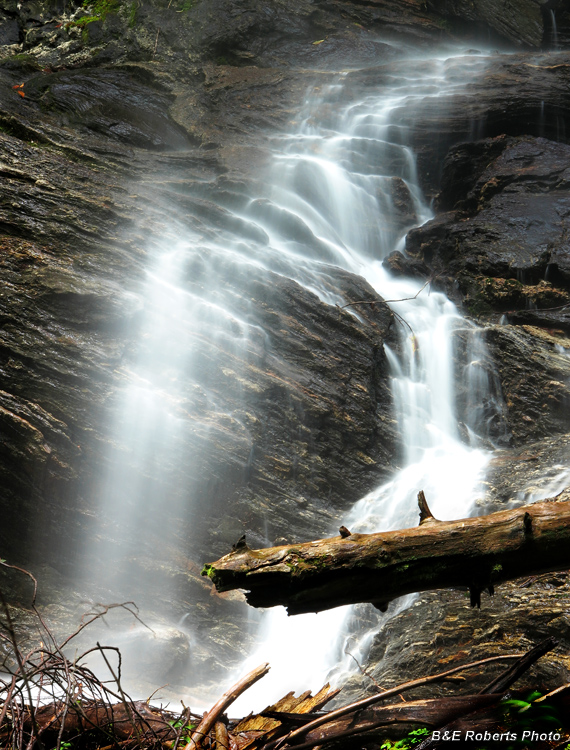 Detail of section of the Lower Falls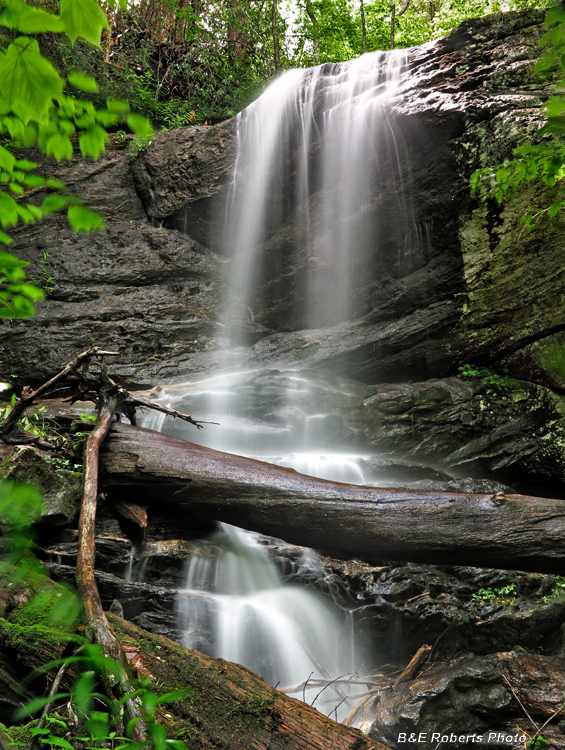 2nd (Middle) Falls on Bear Gap Branch, lower drop. (Elev: 3450')
There is a slide and another drop above it, but too encased in rhododendron for decent photos.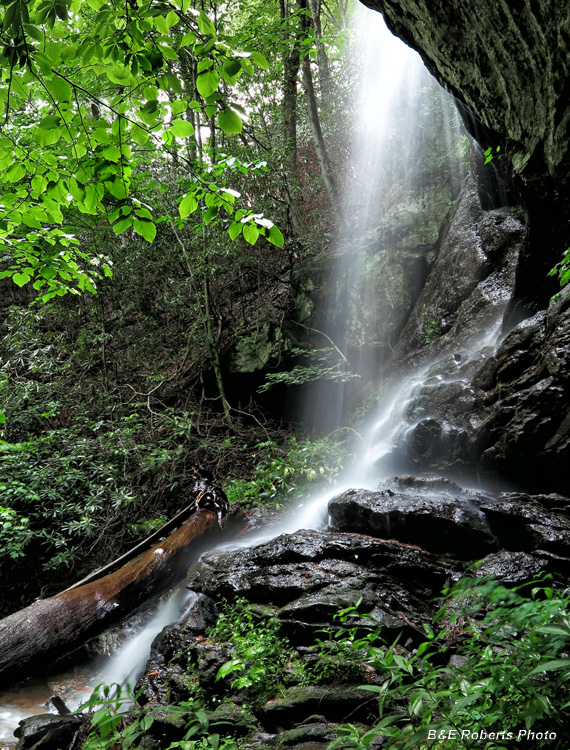 Profile view of the Middle Falls.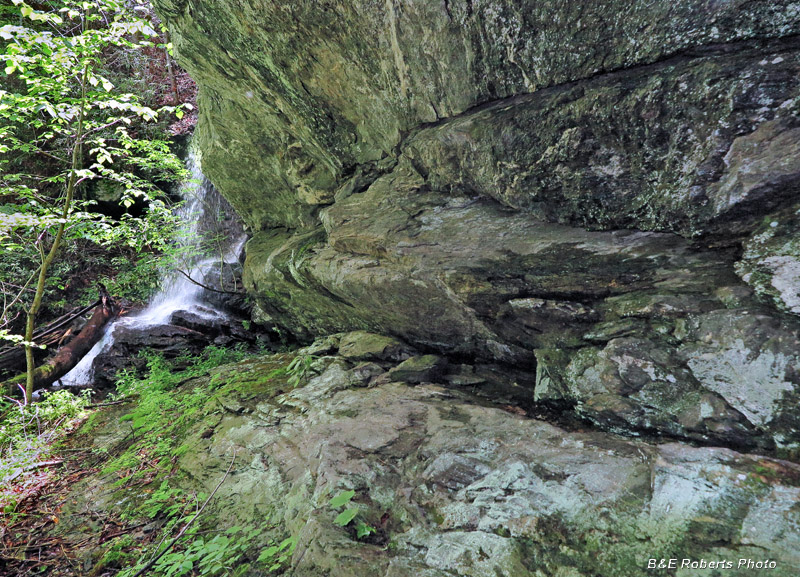 Portion of the long cliff wall adjacent to the 2nd Falls.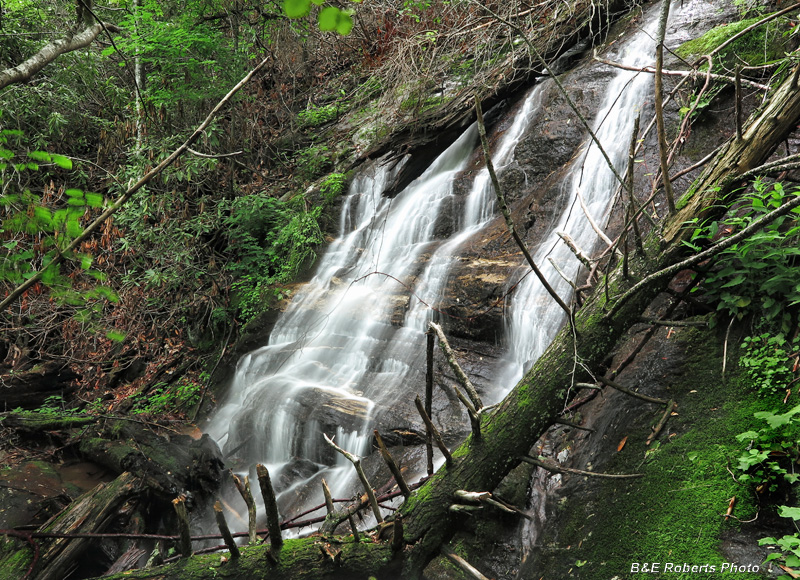 Third Falls (Elev: 3540')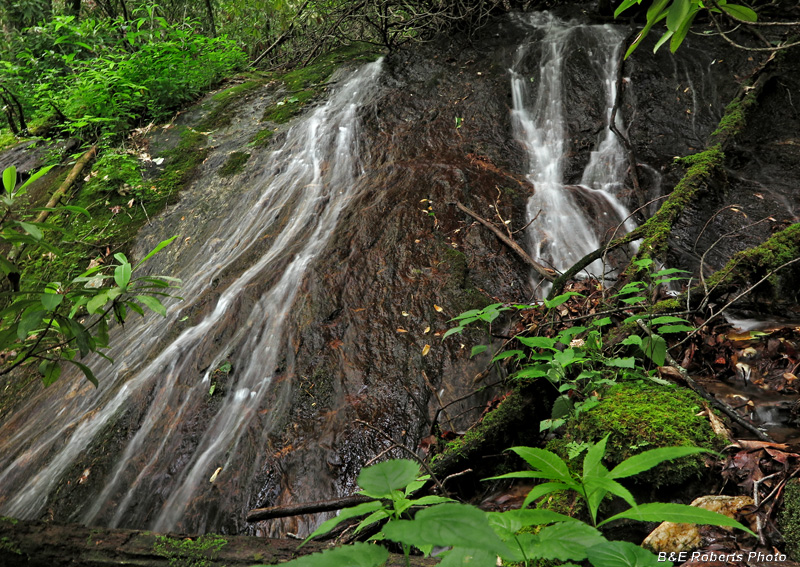 Fourth Falls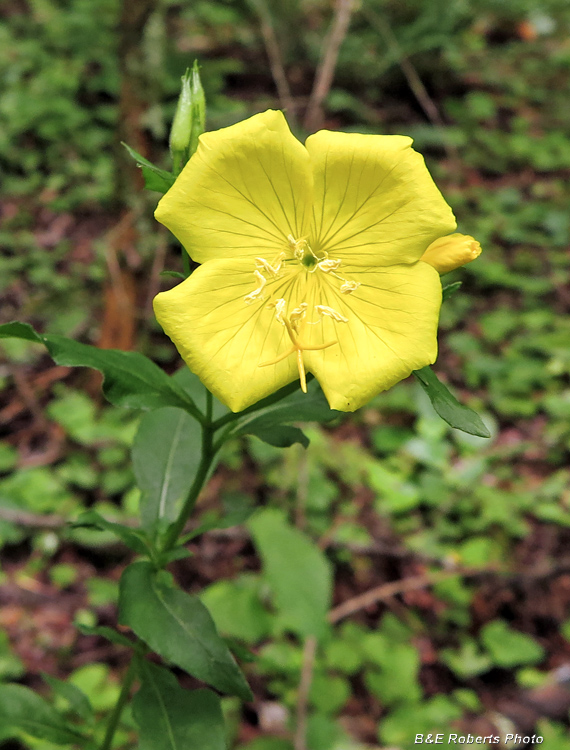 Along the trail, I spotted this Sundrop (Oenothera fruticosa)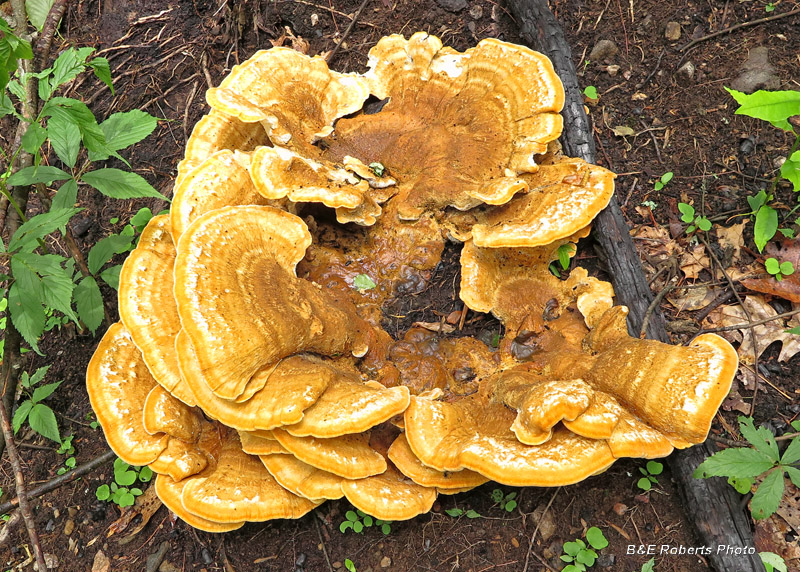 Fungi
---