The Sugar Hill deposits were mined on a small scale before the Civil War. There was no further mining until large-scale
operations were started in 1898. The deposits were mined intensively for about four years. The property was acquired
about 1902 by Joel Hurt, who continued operations until 1906 on a considerably smaller scale.

Remains of Mining Camp: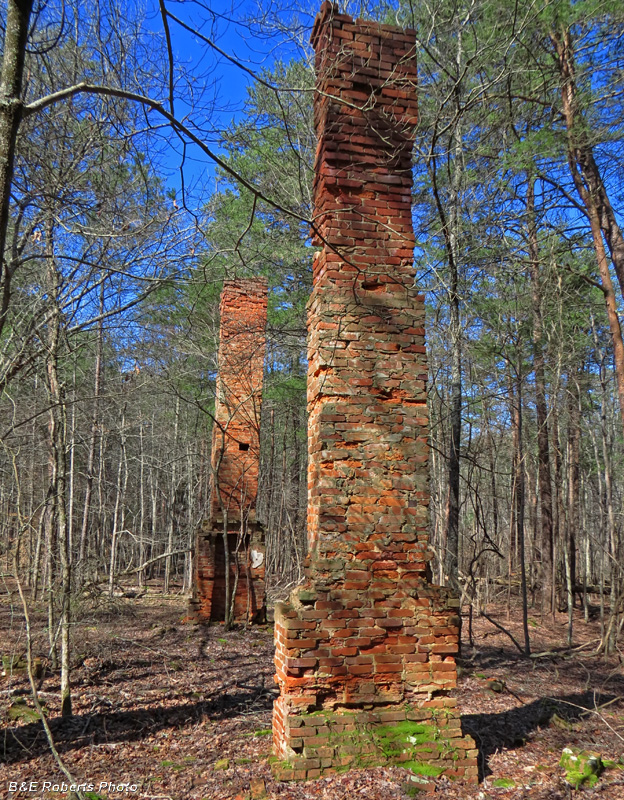 Twin chimneys are all that remain of this structure in the old mining camp.
This must have been one of the more important and substantial buildings
in the mining community, considering the double chimney.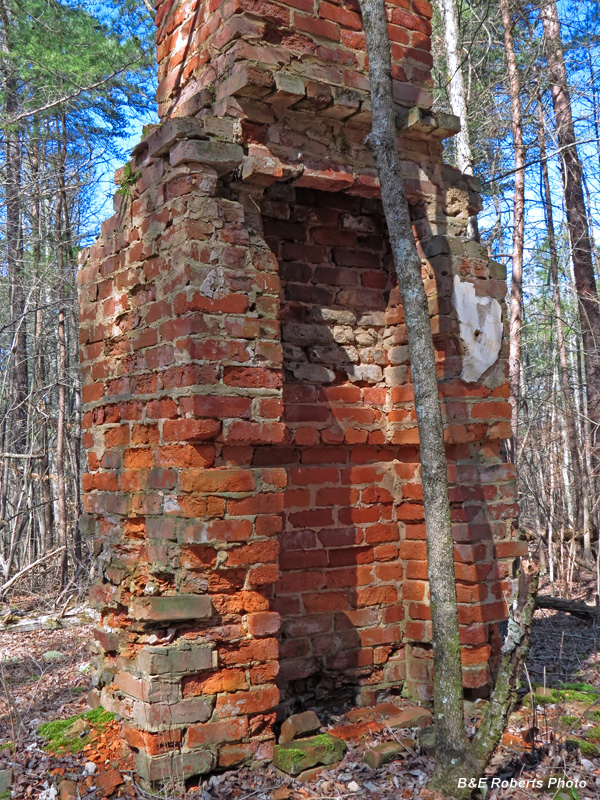 Fireplace at base of one of the chimneys
The majority of ruins that I came across here consisted of rectangular groupings of brick
piers that supported long-gone wooden buildings. Those remains had no fireplaces,
but probably contained wood-burning stoves at the time.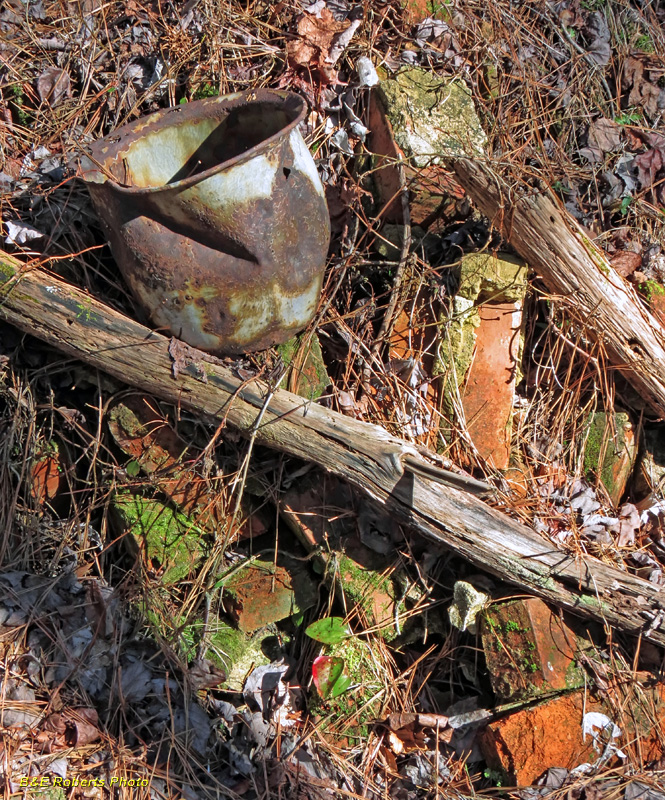 Bucket, bricks, and other detritus, covered by seasons of fallen leaves and pine needles.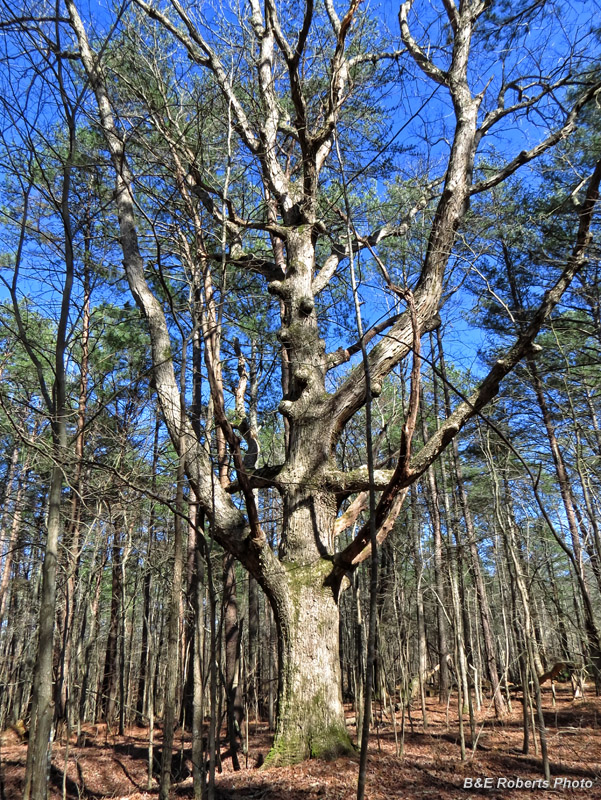 Mighty oak among much smaller trees.
This tree was likely here at the time of the mining operations.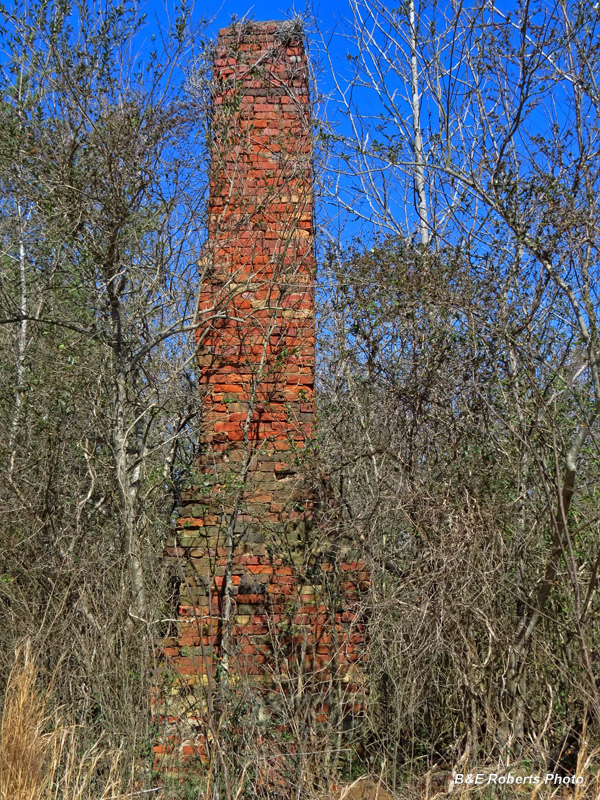 Another overgrown chimney
---
Cripple Creek Ore Bank:

The Cripple Creek deposit was mined from an open cut, about 25 feet deep.
The ore here often occurred in the form of huge boulders.

The cut becomes an ephemeral pond in the rainy season; it usually dries out in the summer.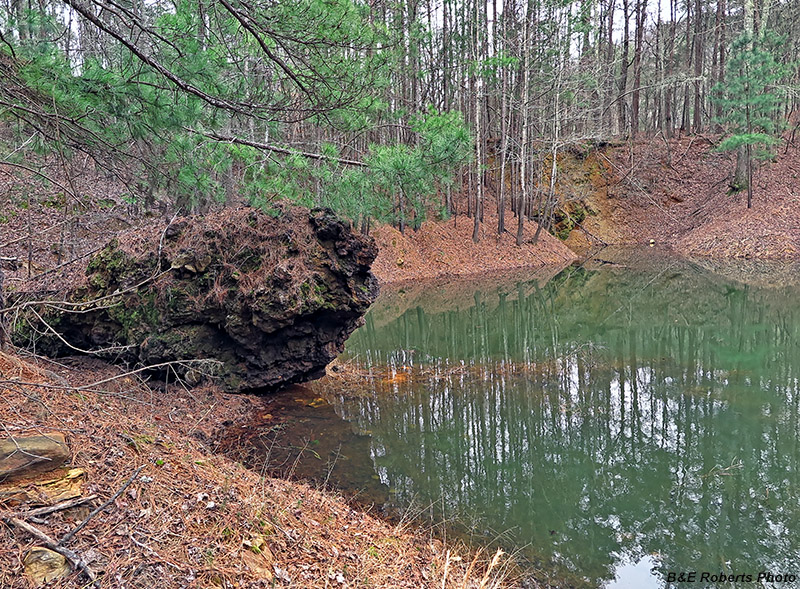 A huge boulder has tumbled down from the rim of the mine cut.
Revisiting on a sunny day: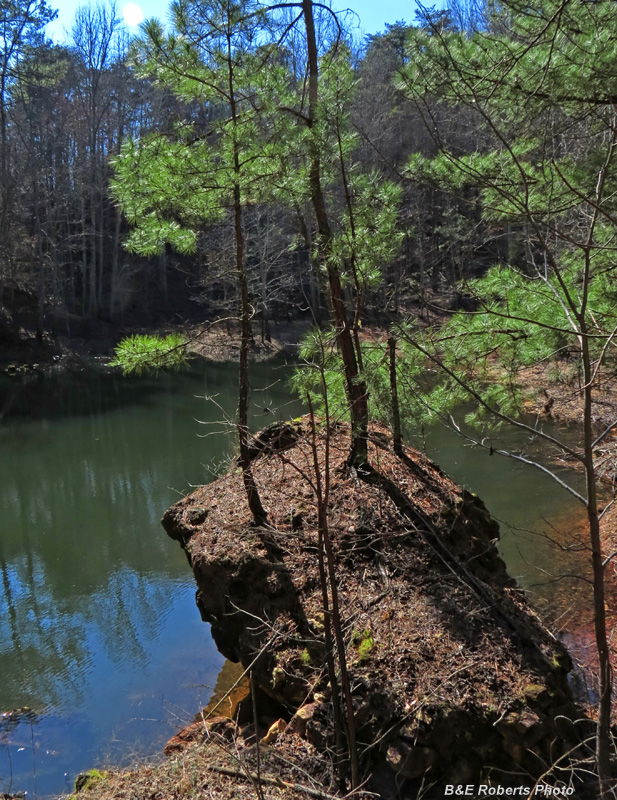 Pines growing out of ore rock boulder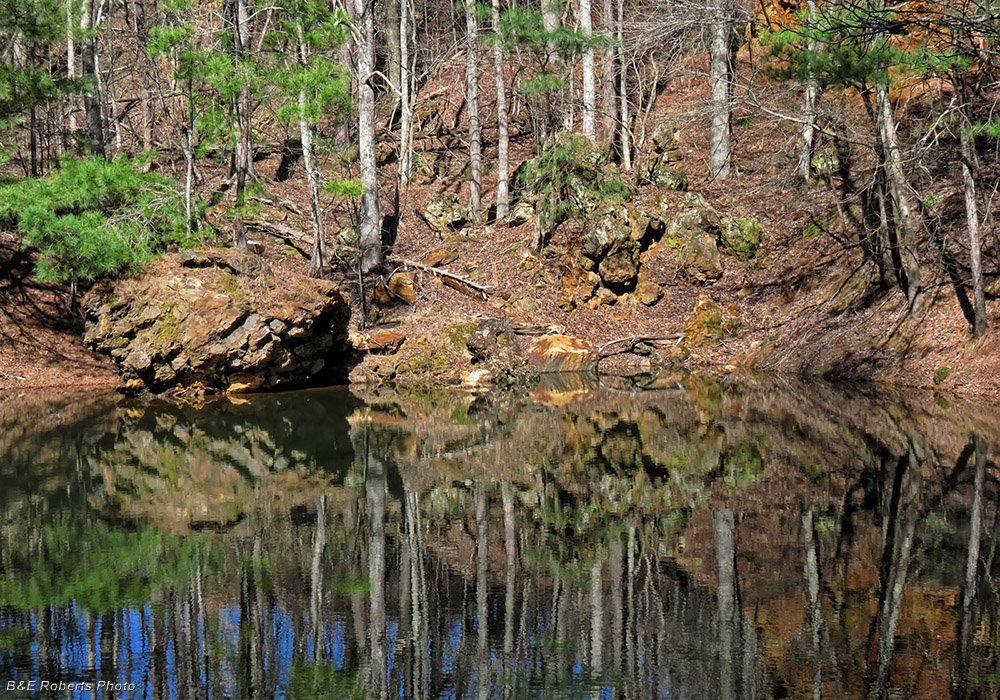 ~ Reflections ~
Boulders of ore-filled rock have fallen down the slope from the cut on the opposite side of the pond.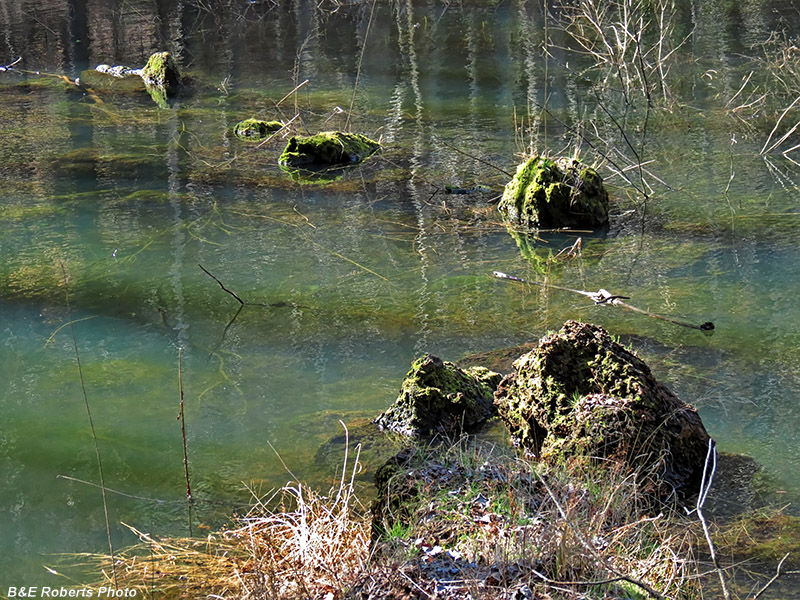 Rocks in the water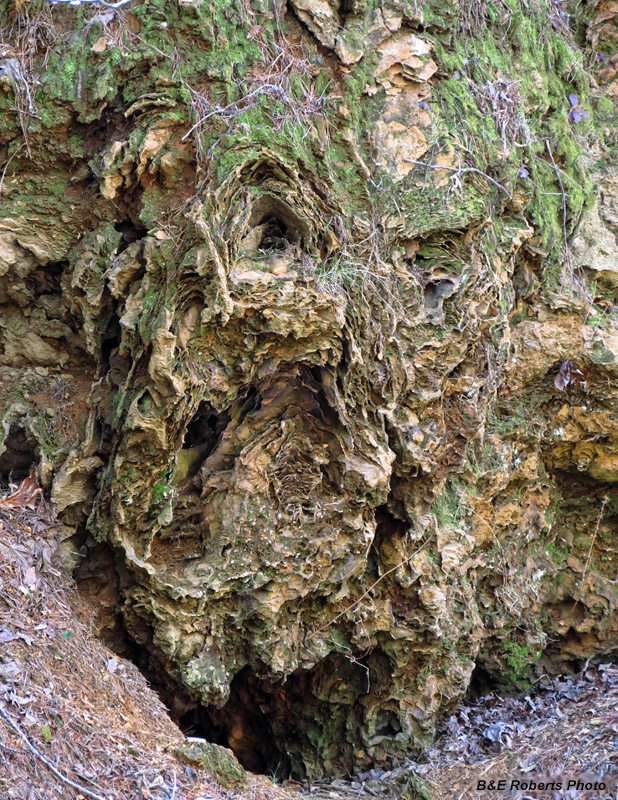 Exposed wall in Cripple Creek cut
Another wall of the cut
Small cove in the pool
---
Pine Hill Ore Bank:

One of the first worked in the Sugar Hill district, the Pine Hill cut covers approx. 3.5 acres.
Water is ponded permanently in the cut, and its original depth is unknown.

The water-filled mine is now known as Sugar Hill Pond.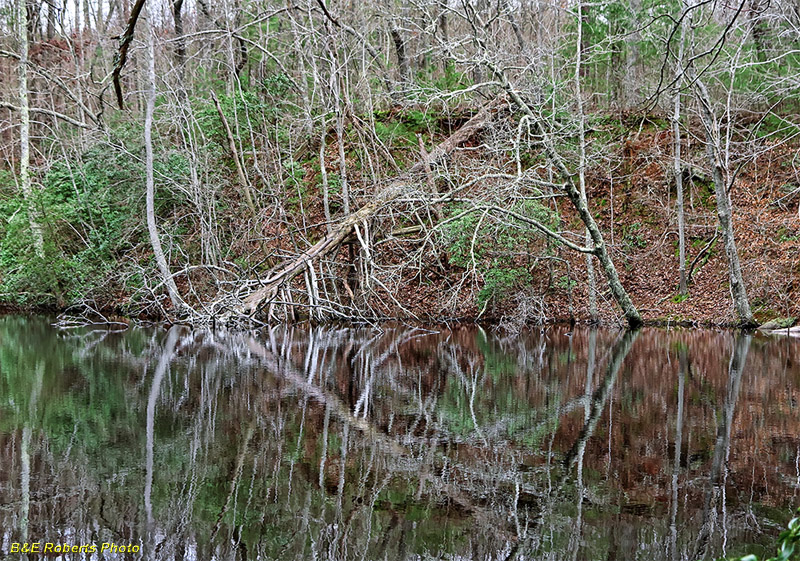 Reflections in the dark water
---
Bluff Ore Bank:

200 yards beyond the Pine Hill ore bank was the smaller Bluff Mine, now also full of water.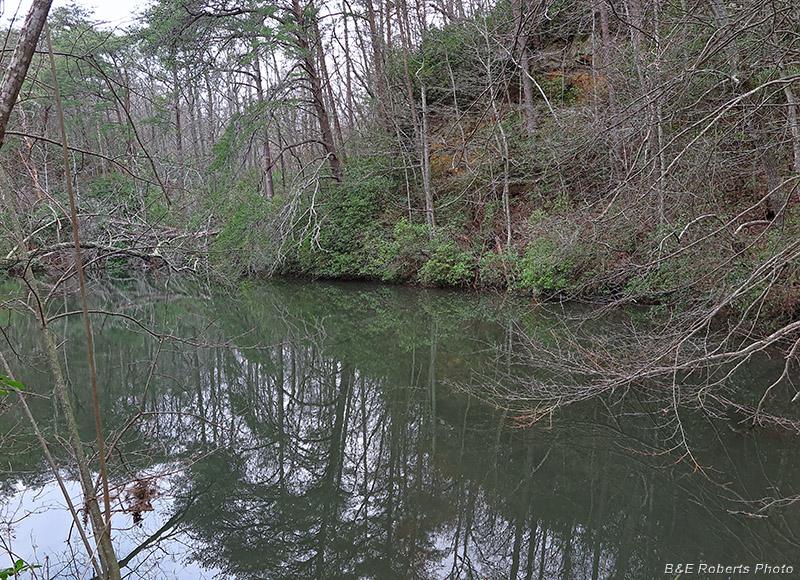 Water-filled Bluff Mine
---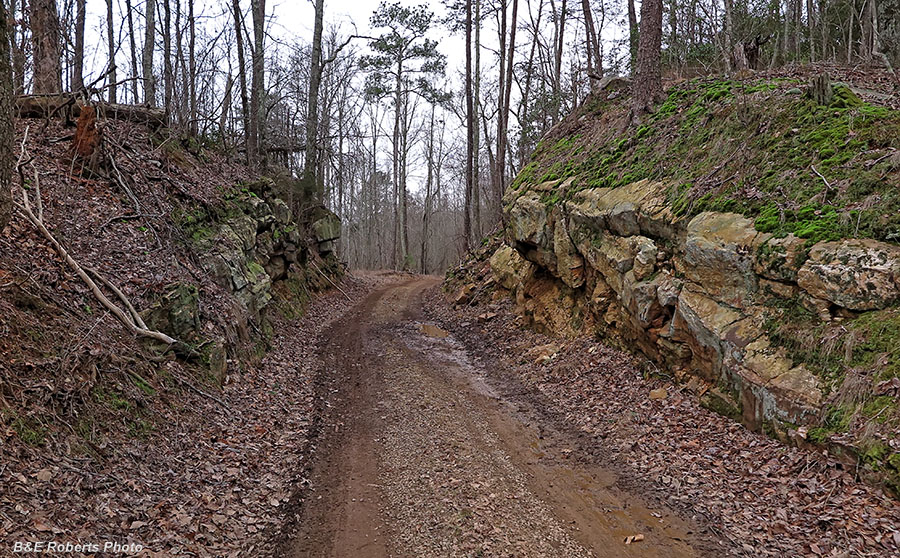 RR Cut for the old Iron Belt Railway grade, which continued from here to the Pine Hill and Bluff Mines.
---
Unnamed Mine:

This cut covers just over half an acre, with a depth of 65 feet.
It appears to have been the last mine worked in the area.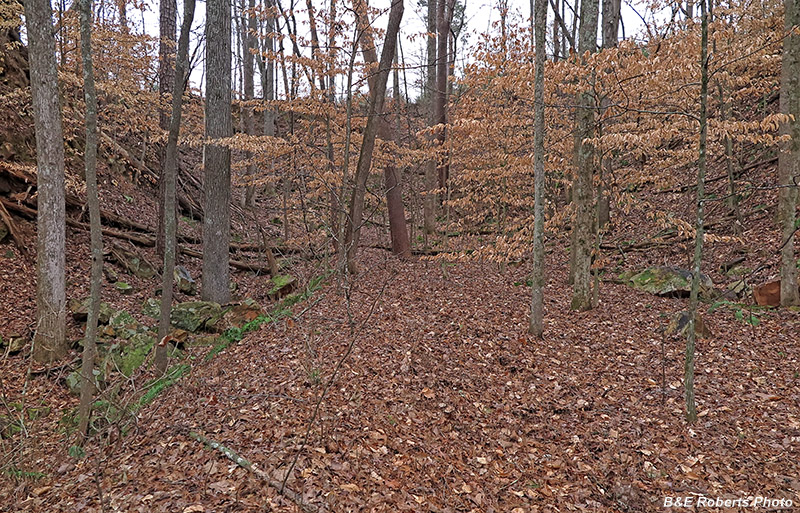 Unnamed mine cut
Nearby water-filled cellar, moss-covered concrete footing, and remnants of brick wall
---
Sugar Hill - Kinsey Cut:

The largest excavation by far of this group, this cut is a half mile long and covers more than 16 acres.
The mine started as two cuts (Sugar Hill to the south, Kinsey to the north) which were enlarged and finally merged.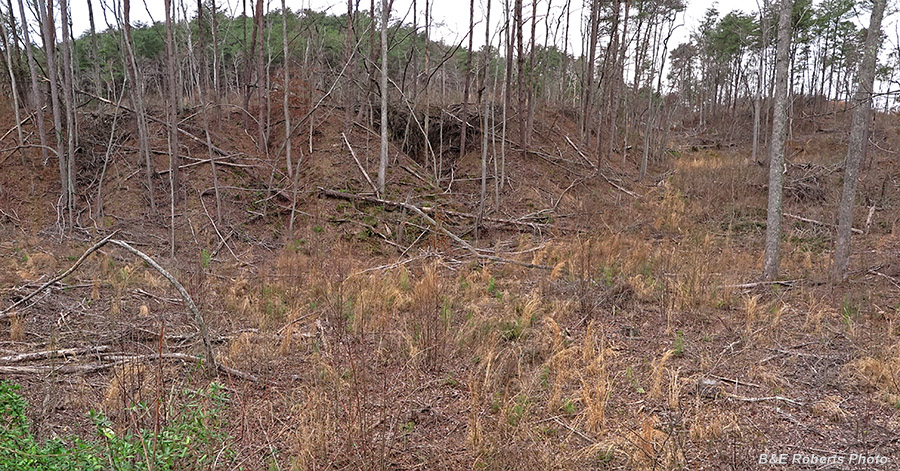 Much of this area has been logged in recent years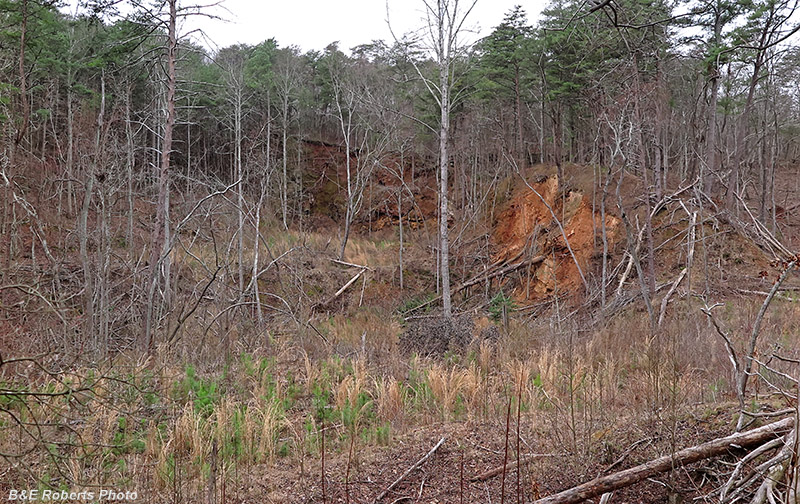 Further along the slopes
Waste-dump piles
Page in Work - More to Come
---